Certified Pre-Owned Homes™
Sell Your Home Faster and for More Money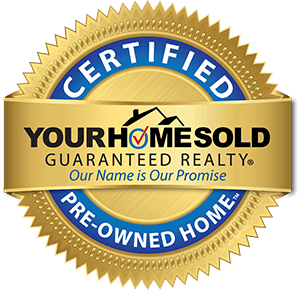 Making your home a Nathan Clark Team Certified Pre-Owned Home™ (CPO) gives you as a seller a distinct selling advantage, peace of mind and protection.
All Certified Pre-Owned Home™ homes are thoroughly pre-inspected by a licensed home inspector* before being placed on the market.
The pre-inspection avoids finding undiscovered problems that might otherwise delay (or even kill) the transaction, giving you the opportunity and time to resolve the problems found, or disclose them upfront to the potential buyer.
Protection while you sell your home: Seller will receive a Home Warranty Protection Plan for the listing period. Plan coverage is Standard Coverage at no cost to the seller. Coverage starts the date the application is received and accepted by America's Preferred Home Warranty and continues until closing.
Peace of mind after the sale: Knowing the buyer will receive a 12-Month Limited Coverage Home Warranty† covering any conditions- things like, roof leaks, mold, electrical issues, heating systems problems, appliances and more from America's Preferred Home Warranty gives you, the seller, peace of mind that the buyer won't contact you after closing for repairs.
Exclusive Buy Back Guarantee: When you sell your home with the Nathan Clark team, your buyer will also receive a 24-Month buy-back guarantee, wherein, if they are not happy with their home purchase Nathan will buy it back or sell it for free† adding more peace of mind and value to the home and ultimately, to you, the seller.
Selling your home as a Certified Pre-Owned Home™ creates a powerful marketing tool that can be used during the process of selling your house.
No more last-minute re-negotiations based on the home inspector's findings.
No more buyers walking away because there may be a problem that had not been previously mentioned.
Based on the home inspection, the seller can resolve any deficiencies brought up by the inspector before it goes on the market.
Seller can disclose any flaws (no home is perfect) up front. This allows you to reflect those imperfections in the listing price, rather than have to negotiate again later when issues are discovered by a home inspector.
It may also eliminate possible legal disclosure-related problems after the sale.
It gives you the option of fixing any conditions identified in the home inspection report or simply reflecting the imperfection in the purchase price. This removes it from the table as a disadvantageous negotiating point for you.
It includes a report that becomes the buyer's guide to home ownership for years to come. For example, the report includes all serial and model numbers of major appliances including any recalls now or in the future.
Report provided from a licensed home inspector prior to making a purchase is subject to the availability and timing. Call office for a copy of report (401) 232-7661. Subject to seller(s) authorization to release report. The Nathan Clark Team does not warranty the report or findings and cannot be held responsible for any defect(s) missed in report. Home inspection includes physical/mechanical, septic (if applicable). 12 Month Limited Home Warranty provided by America's Preferred Home Warranty (or similar company), 24-Month Buy Back Guarantee (subject to buyer and Nathan agreeing upon purchase price and time of possession, certain conditions apply). †America's Preferred Home Warranty provides a limited 12 Month Home Warranty and coverage to the seller while the home is listed for sale. 12 Month Home warranty and seller coverage while listed is not guaranteed or warrantied by the listing broker. Coverage/ warranty company is subject to change without notice. See America's Preferred Home Warranty website for details and conditions as well as coverage. https://www.aphw.com/ For seller to get Seller warranty coverage during listing period, Seller must sign the Supreme Home Warranty Agreement Application to be eligible for coverage. Seller may, at Seller's expense, opt for additional Seller coverage, which is the Seller's responsibility to pay for any additions or upgrades.